LEGISLATIVE PARTNERSHIP PROGRAM
Aims to improve capacity of DPR parliamentary expert staffs in substantive fields, exchange ideas and knowledge, and to deepen United States and Indonesia legislative-to-legislative contacts.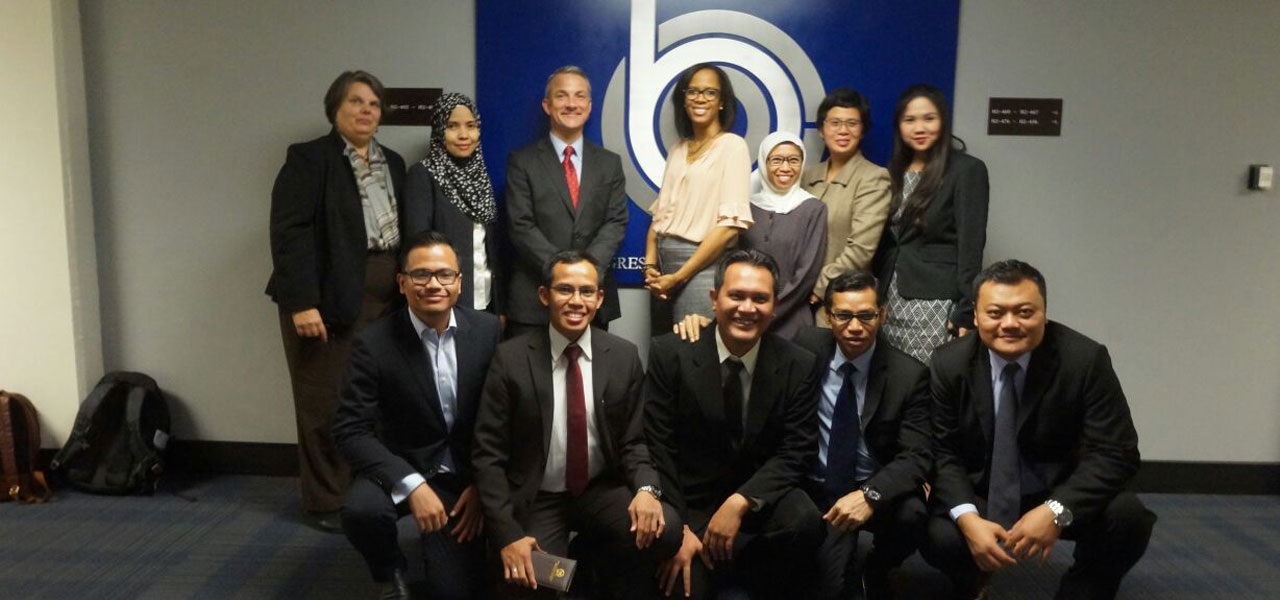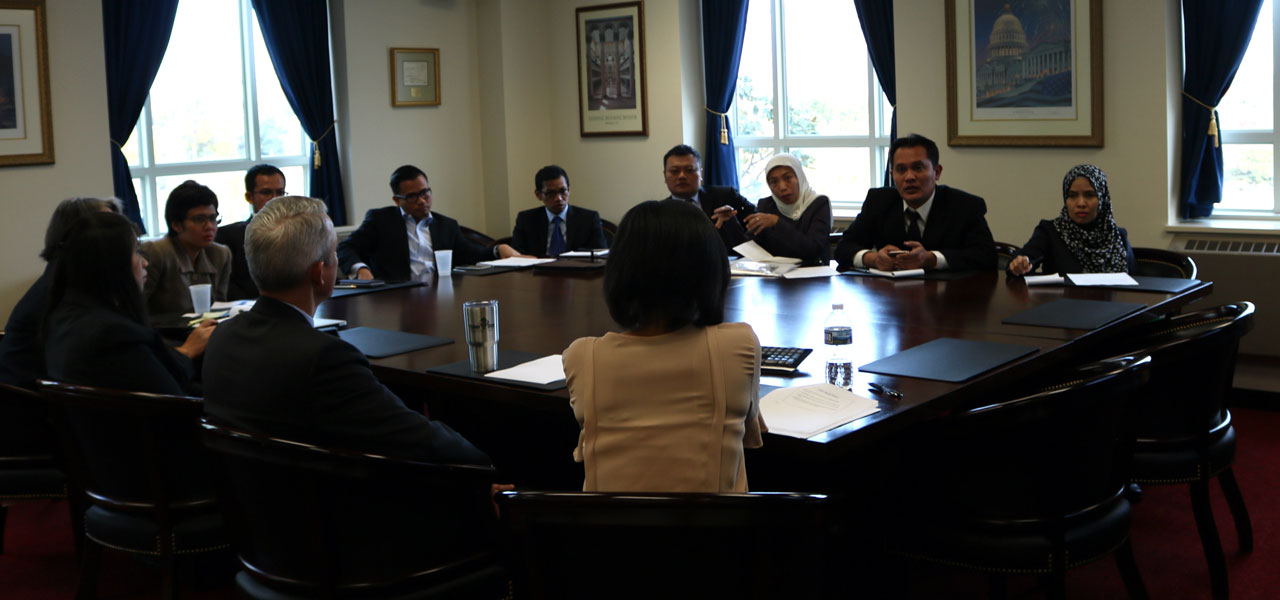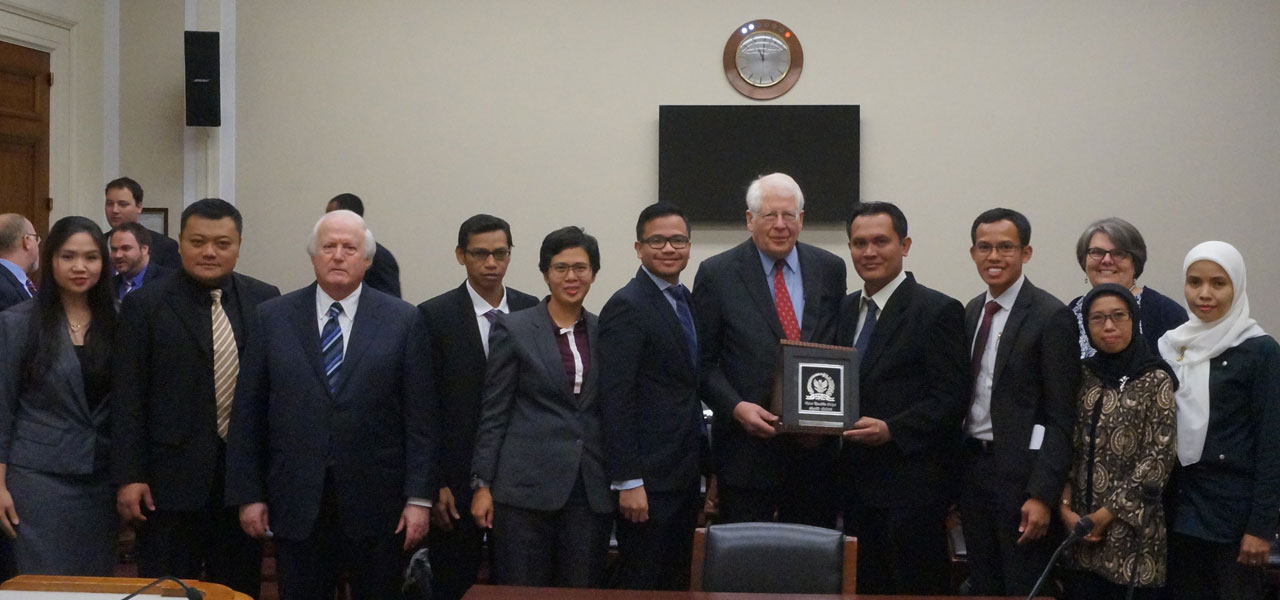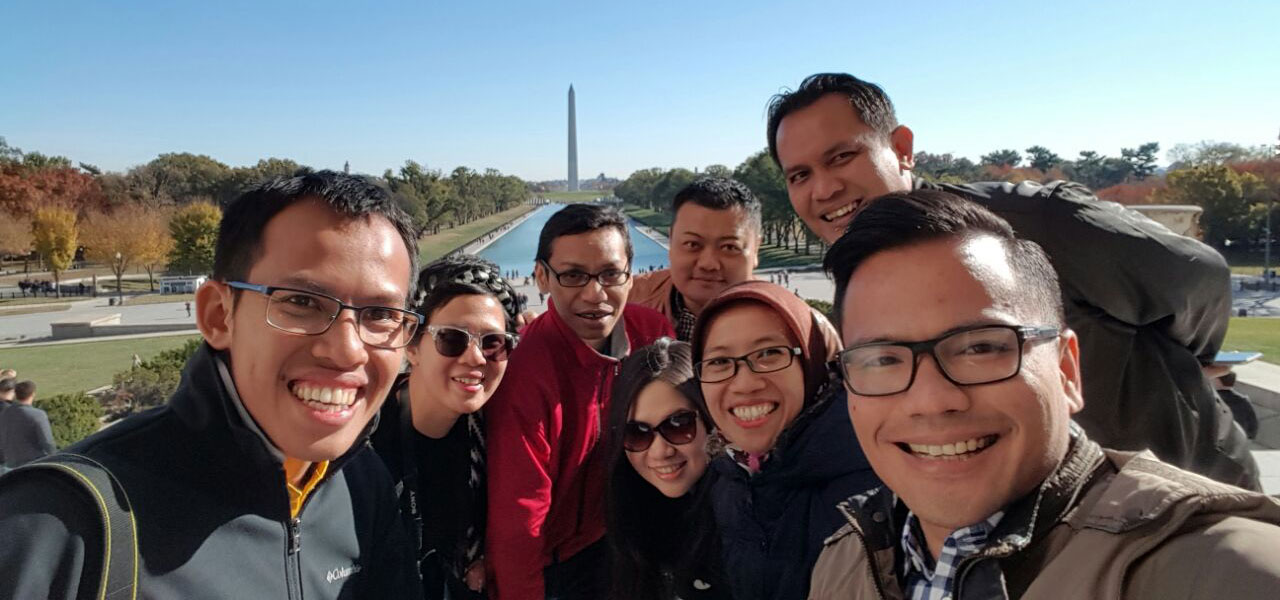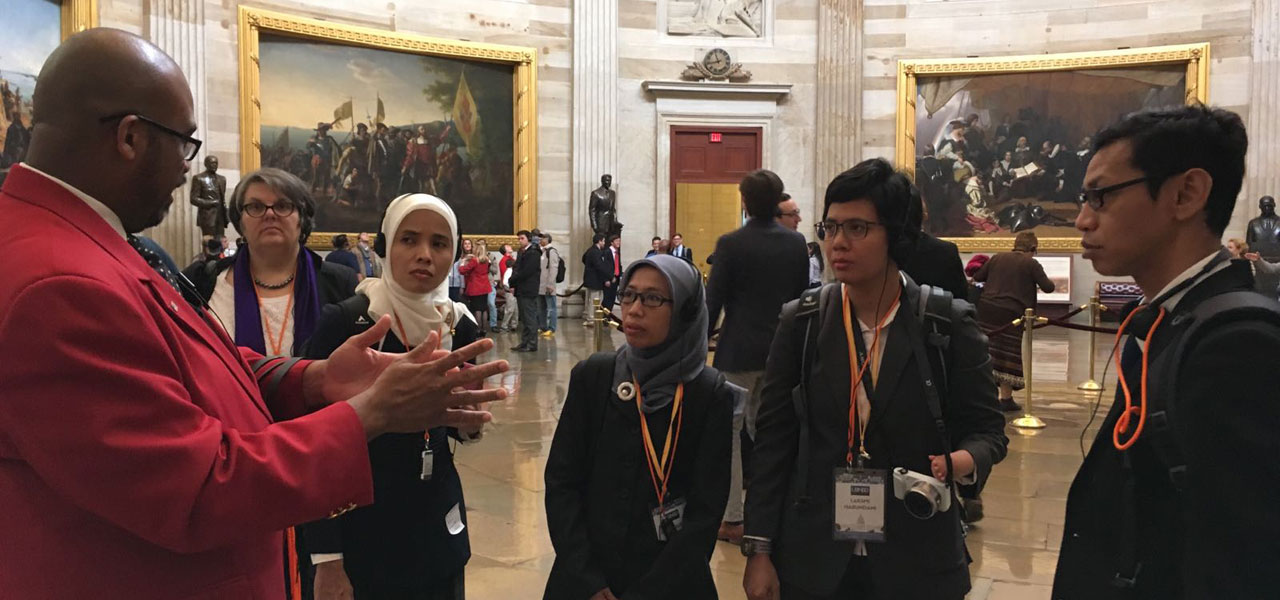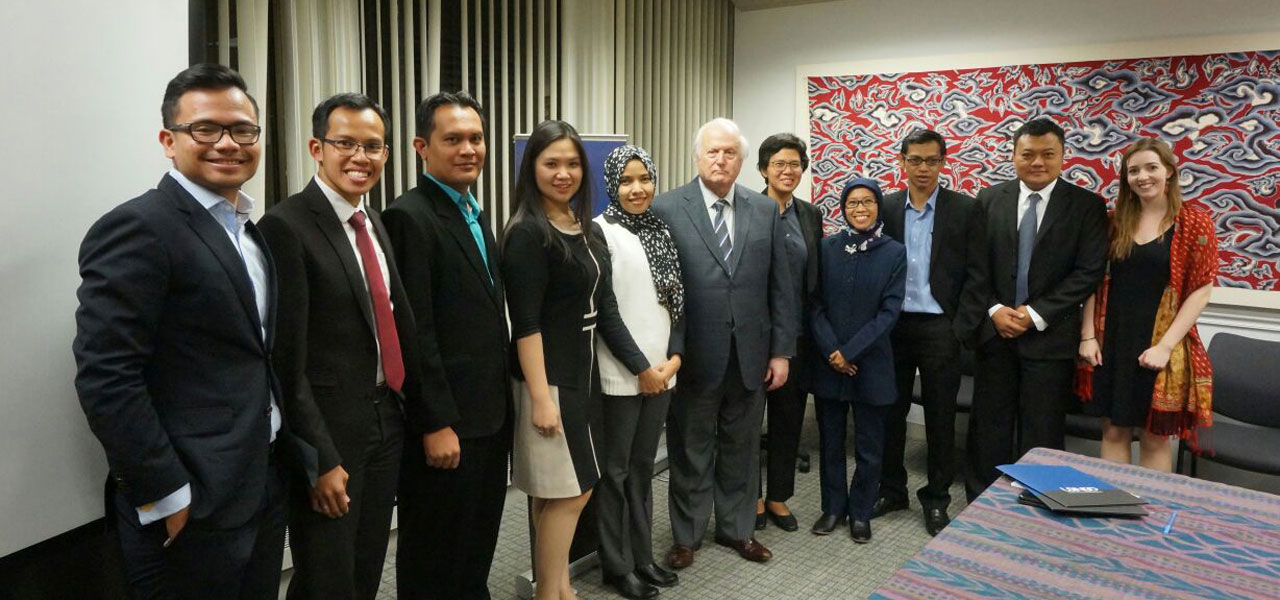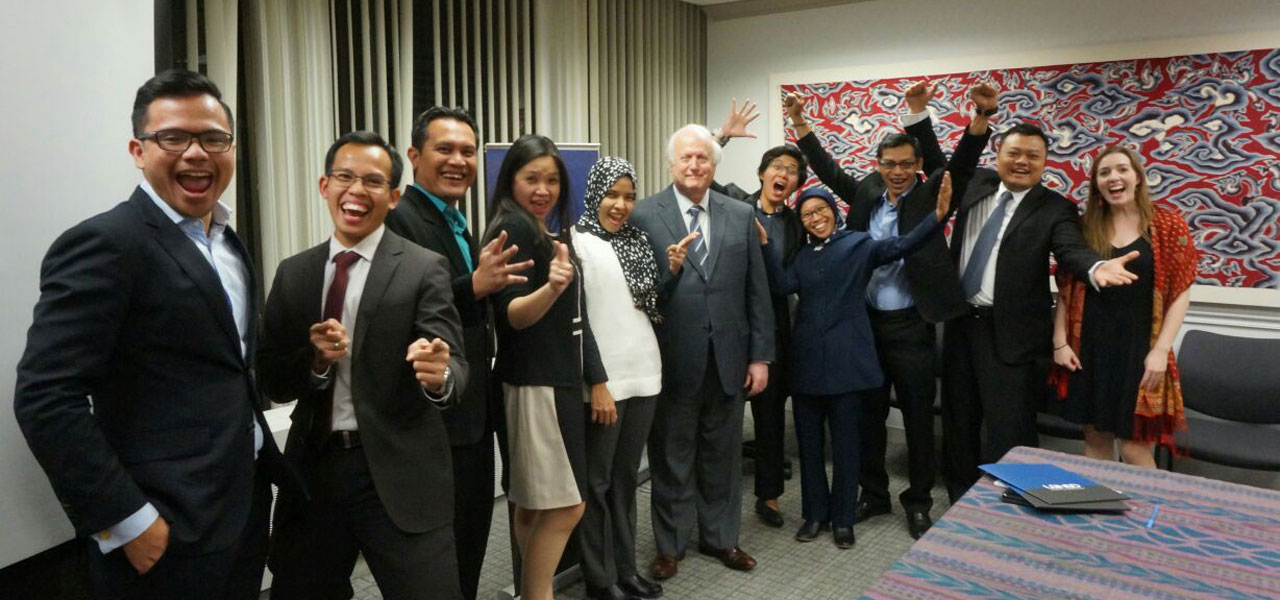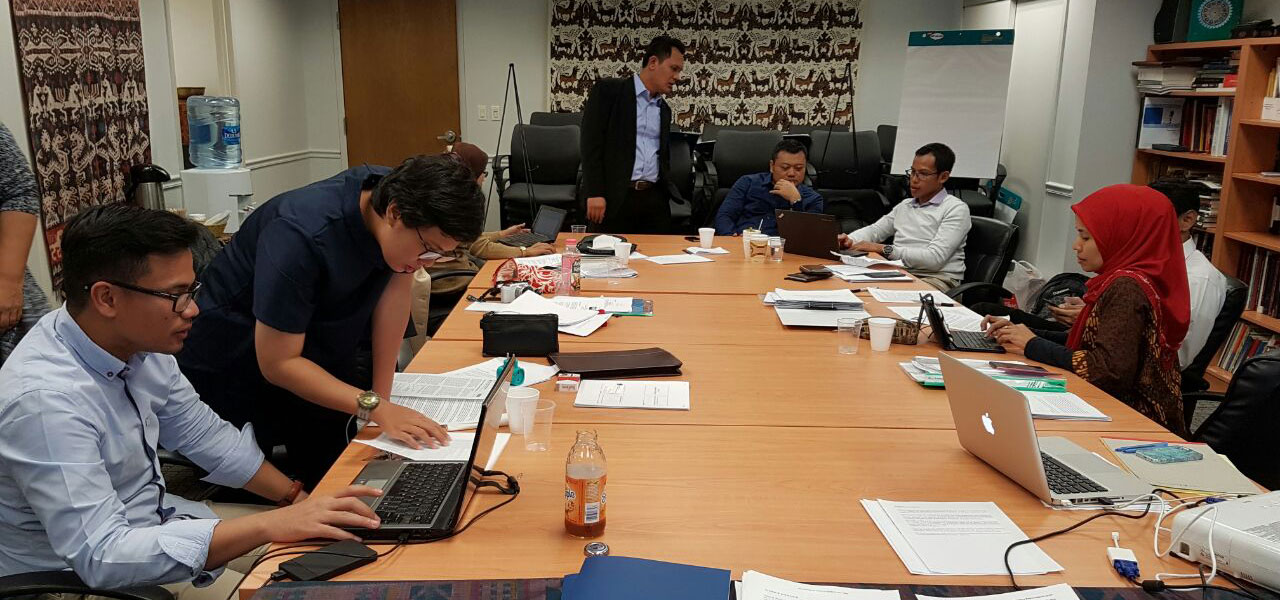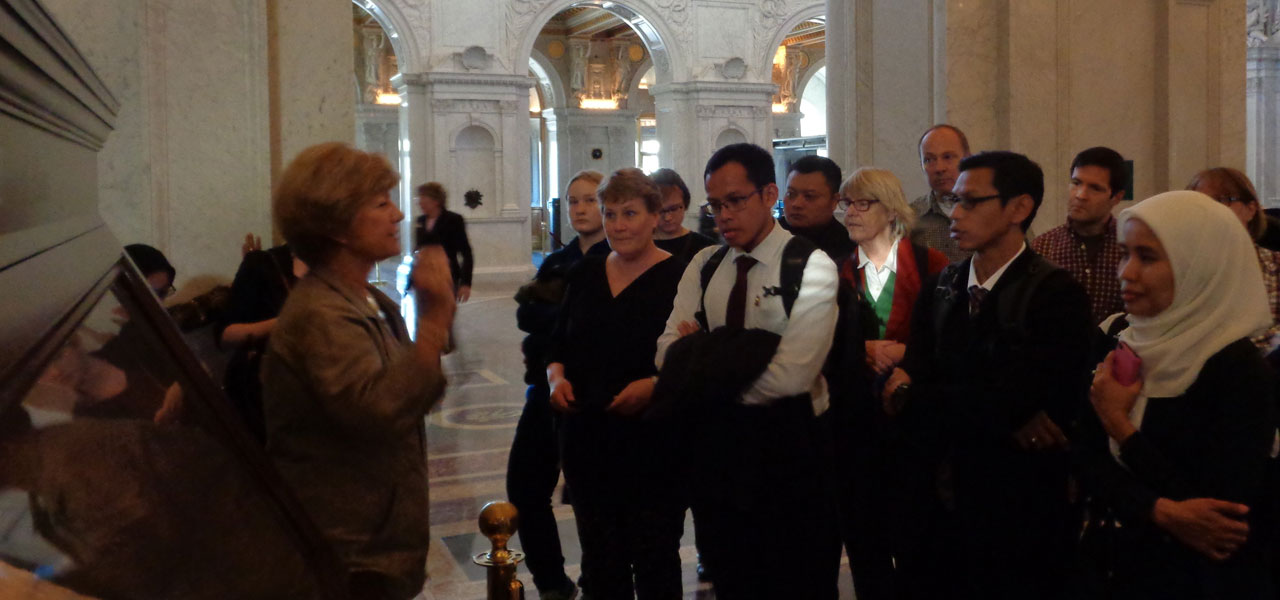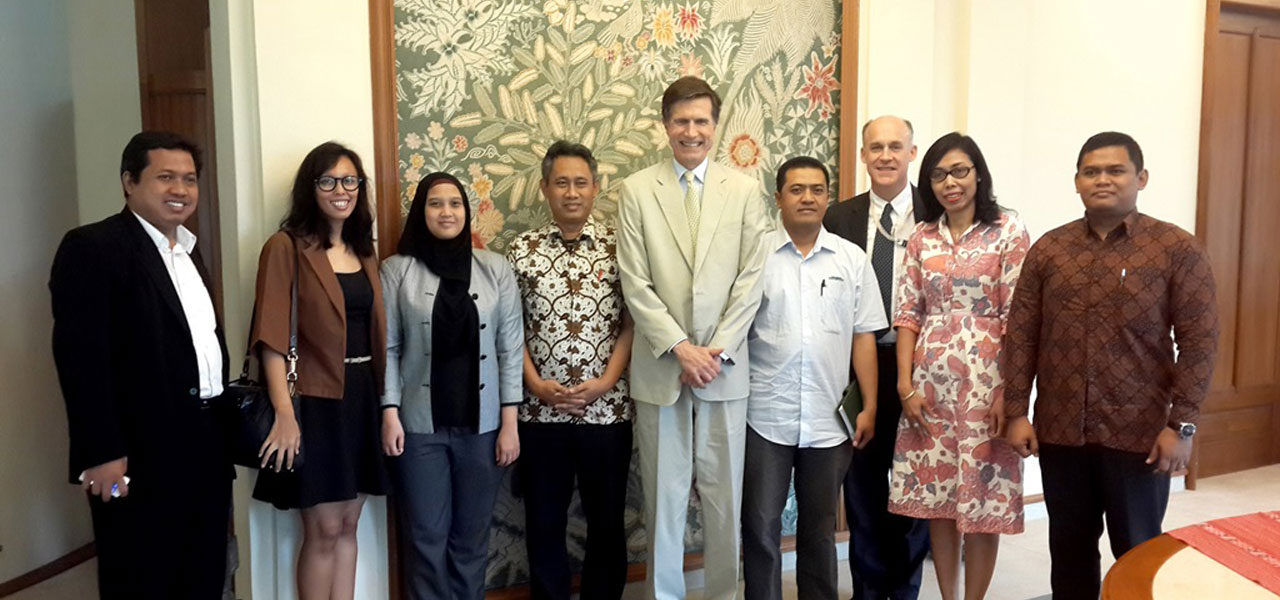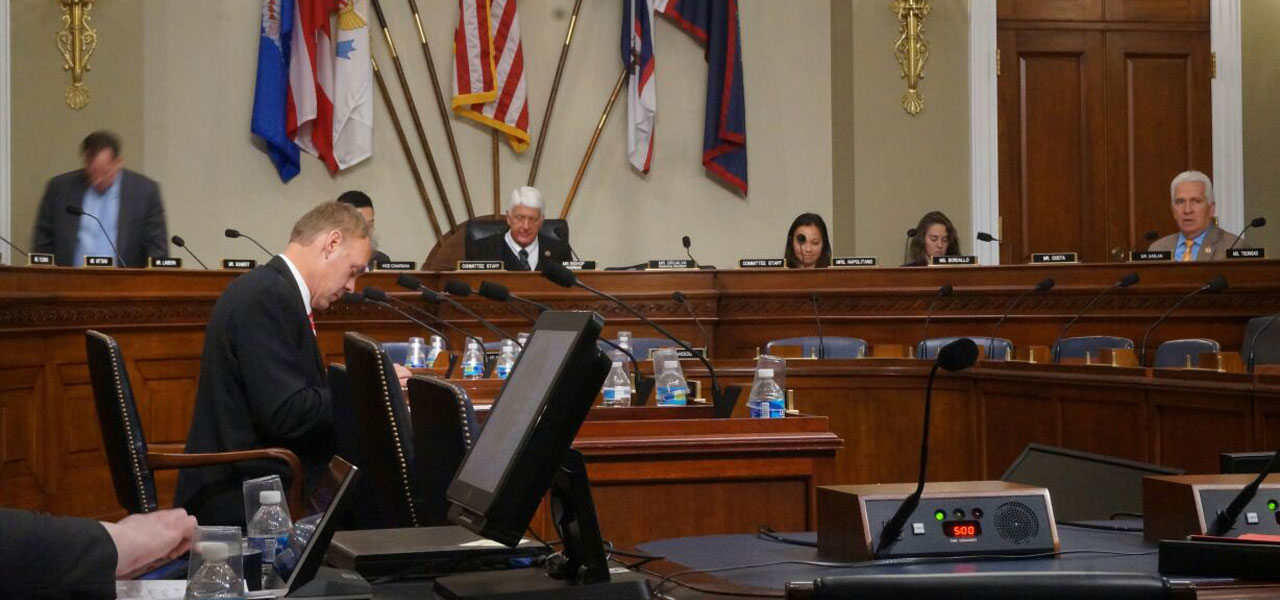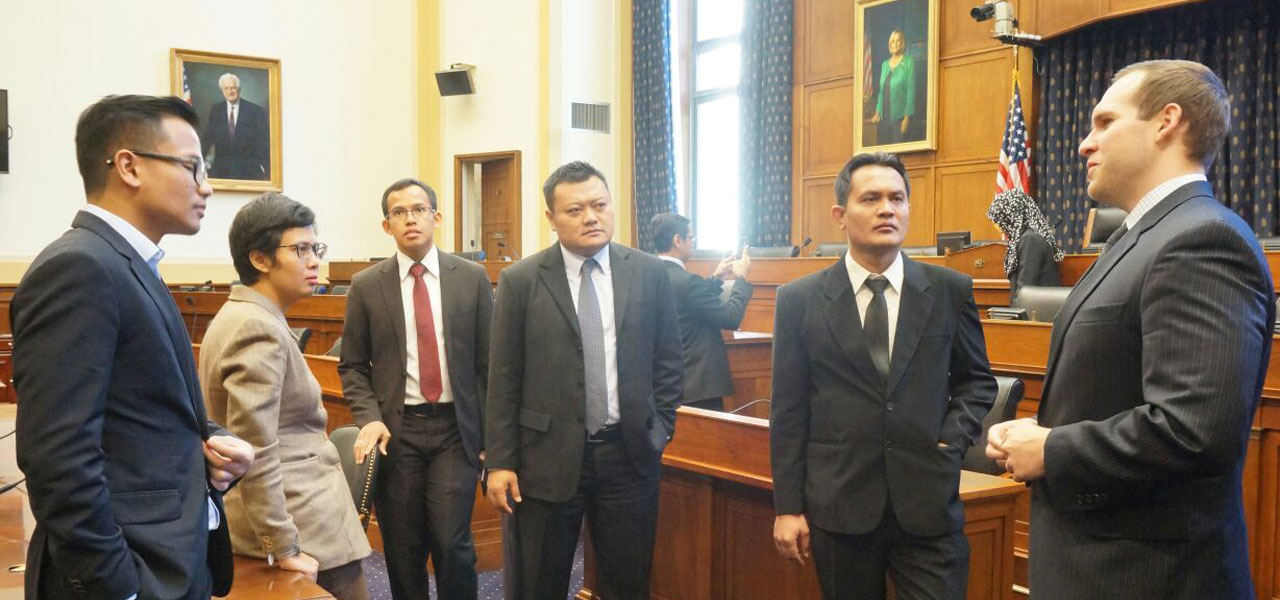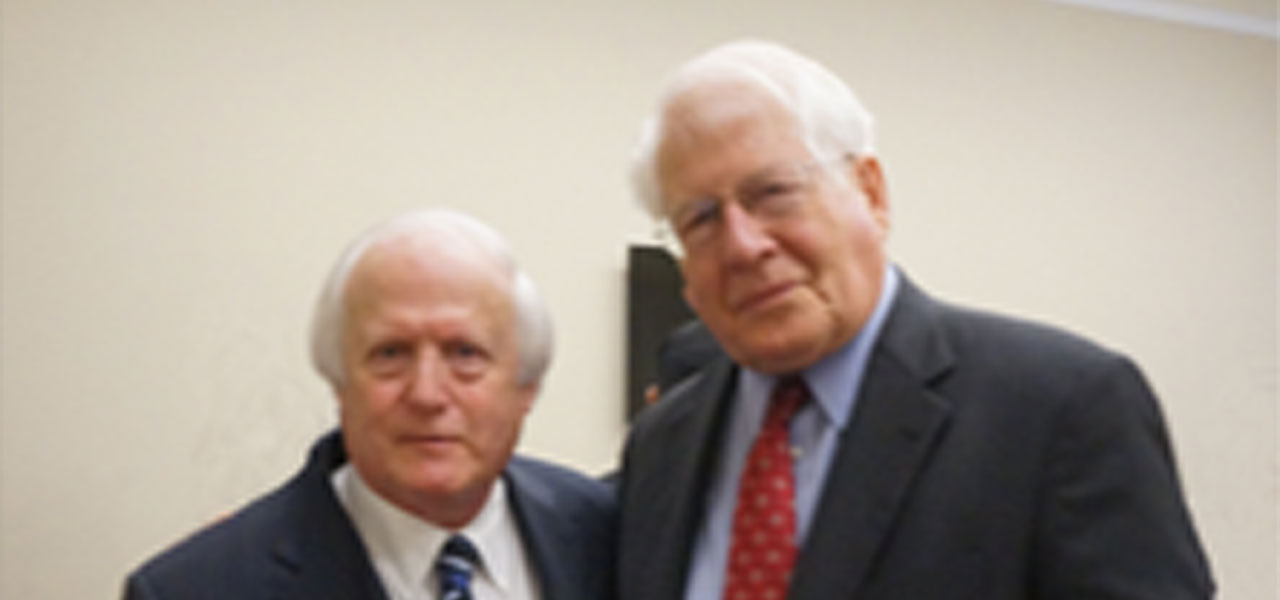 USINDO Legislative Partnership Program has facilitated three batches of Indonesian Parliamentary Delegates. Information on past programs and delegates can be found below.
USINDO Legislative Partnership Program 2021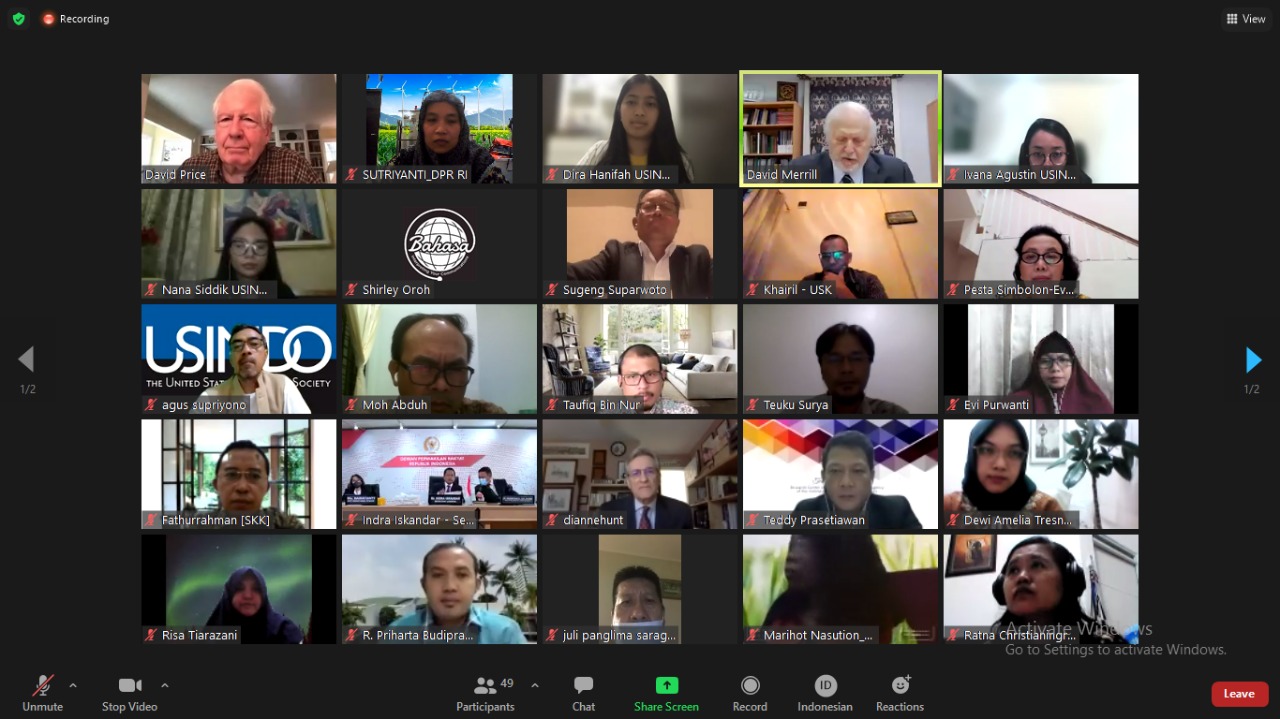 USINDO hosted a successful two-week virtual Legislative Partnership Program (LPP) on Renewable Energy and Nuclear for Indonesian Parliament (DPR) staffers, senior staff of energy-related Executive Branch bodies, and energy scholars involved in writing Indonesia's first New and Renewable Energy bill. The bill aims to help Indonesia achieve its ambitious renewable energy and climate targets.
USINDO created LPP to strengthen the professional capacity and expertise of DPR committees and legislative staff in developing effective laws and deepening their subject matter areas, as well as fostering U.S.-Indonesia legislative branch collaboration.
USINDO's LPP partnered with DPR's Foreign Affairs Committee in 2014 and with the Finance Committee in 2016. This year, we cooperated with DPR's Committee VII on Energy and Environment properly during their process of drafting the highly anticipated New and Renewable Energy bill.
Congressman David Price (D-NC), Chairman of the U.S. House Democracy Partnership (HDP), who has a high and unique role in leading the U.S. Congress in all its relations with other country parliaments attended the opening session of LPP. He commended USINDO's efforts in strengthening the two countries' legislative ties. Chairman of DPR's Committee VII, Sugeng Suparwoto, emphasized that USINDO's 2021 LPP is in line with the commitment of Committee VII in supporting the development and implementation of renewable energy in Indonesia.
USINDO's 2021 LPP made up of both legislative best practices and Committee VII subject matter area on New and Renewable Energy.
To cover the New and Renewable Energy topics, the program brought together 11 world-class energy experts from 6 countries. The participants learned from these experts how other countries have planned their renewable energy policies, the multi-dimensional impacts of renewable energy, the pros and cons of each renewable energy source, fiscal and regulatory policies that may be appropriate for Indonesia. They discussed the case studies of China, Germany, Vietnam, India, South Africa and Mexico in promoting clean energy.
Participants also learned various options for regulatory framework and financing, risks and barriers that need to be taken into account in renewables investments as well as the important role of the private sector in renewable energy technology development and innovation.
On specific renewables sources, the Indonesians comprehended on how to maximize Indonesia's geothermal potential, and governing nuclear safety in Indonesia's nuclear power agenda, and whether nuclear energy should be included in the current draft bill or not.
This year's LPP exposed the participants to the staff of the U.S. House Energy and Commerce Subcommittee, Congressional Research Service (CRS) and Executive Office of the President. They learned about policy making in the U.S., Congressional research resources, U.S. House of Energy Subcommittee, the critical role and responsibilities of legislative staff in supporting Members of Parliament, and oversight functions of committees and legislative bodies. They were also briefed on the energy policy of the United States in the past administrations.
Those insights provided a useful reflection to the Indonesian Parliament staffers in formulating and writing effective policies.
In addition to the lecture sessions, USINDO divided the participants into groups where each discussed important takeaways from lectures during their mandatory group meetings. To put what has been learned into practice, all groups also undertook a practical assignment of writing three papers on pre-identified topics. These assignments allowed USINDO to gauge the participants' progress in grasping the materials delivered to them and translating the lessons learned into concrete strategies. The two-week program concluded with the presentation of each group's recommendations on Indonesia's NRE bill creation in front of the leadership of Committee VII and USINDO.
USINDO hopes to have helped strengthen the capacity and professionalism of Indonesian parliamentary staff and further support the promotion of democracy in Indonesia through this program, and is looking forward to doing so in the future.
USINDO Legislative Partnership Program 2016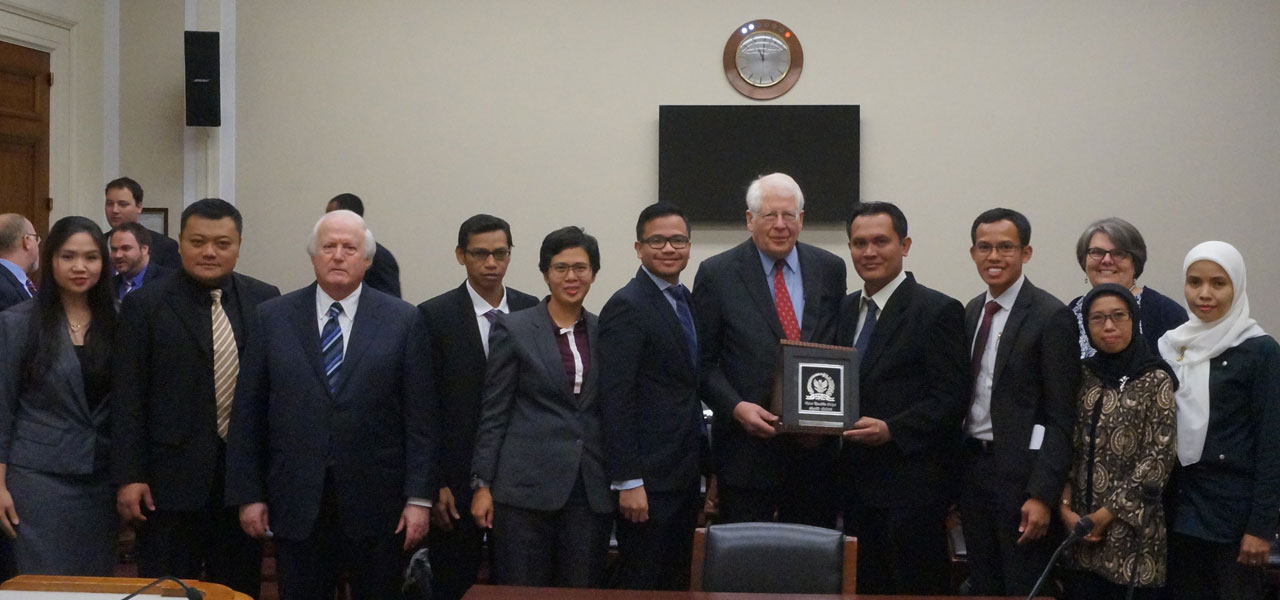 USINDO announces the successful completion of its second "Legislative Partnership Program (LPP)"  from November 13-19, 2016.   LPP is USINDO's initiative to strengthen the legislative-to-legislative dimension of the US-Indonesia Strategic Partnership.   It was conducted in cooperation with the U.S. House Democracy Partnership (HDP), the U.S. House Foreign Affairs Committee (HFAC), and the Indonesian House of Representatives (DPR),
USINDO, together with the US Embassy Jakarta and partner NGOs, competitively selected eight top Indonesian parliamentary staff members to come to Washington to enhance their skills in the substantive issues of economics, finance, banking, and trade, as well as in legislative drafting, research, and Congressional processes.
The Indonesian participants learned practical knowledge and insights directly from their U.S. counterparts. Topics included U.S. Congressional Committee functioning, how professional staff assists the Members using the Congressional Research Service, the Congressional Budget Office, and the General Accountability Office, and how the U.S. system engages stakeholders for inclusive policy-making.  Methods included lectures, interactive discussions, workshops with assignments, and direct observation of committee hearings and floor proceedings.
The program exposed participants to the importance of coordination and communication between committees, personal, and support system staff in enhancing the quality of Congressional work. The program imparted the importance of professionalism, transparency, accountability, effectiveness and a systematic process while maintaining the flexibility needed to achieve the intended objectives.
In addition to learning U.S. legislative processes, the participants gained substantive knowledge on finance, fiscal and monetary, trade and banking issues such as the U.S. budget deficit, TPP, Dodd-Frank Act, and U.S. financial reform policy.  As the program took place a week after the U.S. Presidential election, the participants gained impressions of the election and its implications as seen by the U.S. Congress.
The participants were privileged to gain invaluable insight on the role of members and staff through an interactive discussion with Representative David Price, Ranking Member of the House Democracy Partnership and Member of the Appropriations Committee.  Congressman Price stressed the value of strengthening the legislative partnership between the U.S. and Indonesia, and his high regard for the role of legislative support staff.   He said as a former Congressional political staffer himself, he recognizes the unique set of skills that staff bring to enhance Representatives' knowledge, helping the members make their final decisions.
To stretch and apply their learning from Capitol Hill, USINDO organized a workshop day for the participants. Experienced practitioners from the government and non-government sectors shared practical skills, including how to effectively write memos, briefing papers and other products for a legislative clientele, how to inform parliament members on topical issues related to trade, finance and banking, how to effectively conduct advocacy and lobbying, and strategies for engaging with the media, private sector, and NGOs.
This was capped with a practical work assignment requiring the participants to draw on their experience and information acquired on substantive topics and support resources, and apply it to the context of their work in Indonesia.  They wrote sample briefing papers for their committees in their areas of interest, and presented them orally to the group for comment.
This LPP also provided three broader outcomes:
American presenters learned more about Indonesia and had the chance to compare and reflect on their own legislation;
The program raised awareness on the Hill about Indonesia and its different legislative system.
Participants developed contacts with Members and Staffers of the U.S. Congress from both parties, U.S. and Indonesian Executive Branch officials, and NGOs and CSOs, which may lead to further collaboration and cooperation in the future.
The participants are anticipating to continue in Jakarta to work on more specific issues on policy research, legislative drafting, budget analysis, and institution building.
More photos of the USINDO Legislative Partnership Program 2016 can be accessed HERE
LPP 2016 Fellows
Achmad Sani Alhusain
Economic and Public Policy Researcher, Center for Research of the Expert Body, DPR RI
Agustinus Apelaby
Deputy Chief of Staff, Eleventh Commission Secretariat (Komisi XI DPR RI)
Inti Nuswandari
Expert Staff, National Democrat Party (NasDem) Faction in Eleventh Commission, DPR RI
Laksmi Harundani
Legislative Drafter, Secretariat General for the Experts Council, DPR RI
Rian Pradipta
Expert Staff, for the Honorable Satya Widya Yudha in Seventh Commission, DPR RI
Rihan Handaulah
Expert Staff,  for the Honorable Ecky Awal Mucharam in Eleventh Commission, DPR RI
Sahat Silalahi
Economic and Public Policy Researcher, Center for Research of the Expert Body, DPR RI
Venti Eka Satya
Economic and Public Policy Researcher, Center for Research of the Expert Body, DPR RI
USINDO Legislative Partnership Program 2014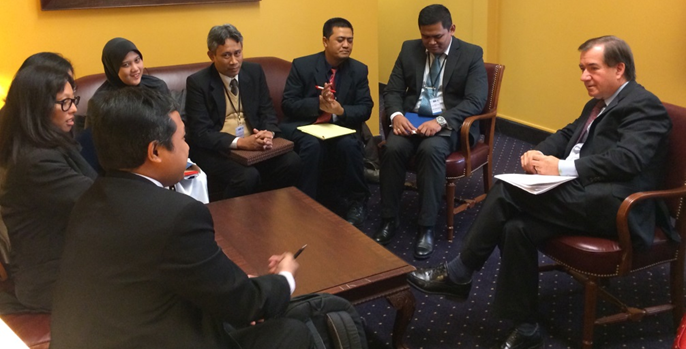 USINDO successfully launched its first Legislative Partnership Program for seven competitively selected Indonesian parliamentary staff members in Washington March 1-7, 2014, followed by internships for selected staffers in U.S. Congressional offices.
The participants learned practical knowledge directly from experienced U.S. practitioners about U.S. Congressional committee functioning, the role of professional staff and staff management, the use of support systems such as the Congressional Research Service, legislative drafting, government and non-government legislative oversight, and how the U.S. system engages stakeholders for inclusive policy-making.
They also concentrated on substantive foreign affairs issues between the U.S. and Indonesia. Participants discussed the status of the U.S.-Indonesia Comprehensive Partnership and the roles and opportunities for governments, legislatures, and NGOs with U.S. and Indonesian Executive Branch officials. They also built a network of U.S. Congressional contacts which will serve them well in future and promote interaction with the Indonesian parliament.
Three participants were selected to remain in Washington for internships in U.S. Congressional offices as "USINDO Fellows". They were assigned to the House Foreign Affairs Committee, the Subcommittee on Asia and the Pacific, and Representative Joseph Crowley's office based on their areas of expertise. During the internships, the Fellows learned first-hand about Committee jurisdiction, daily Congressional processes, district management and co-engagement, and the importance of legislative-constituency relations. The Fellows also attended NGO and think tank panels and briefings, conducted policy research, and observed Committee activities and hearings.
The program also offered participants the chance to directly experience a new culture and interact with Americans. For five out of the seven participants, this was their first time in the U.S. and became an eye-opening experience to see the actual nature of America's multicultural and multi-religious society.
More photos of the USINDO Legislative Partnership Program 2014 can be accessed HERE
LPP 2014 Fellows
Annisa Mariana Sukarna
Expert Staff in Foreign Affairs, Inter-parliamentary Cooperation Agency (BKSAP), DPR RI
Hilda Kurnia N. Tanjung
Staff, Inter-parliamentary Cooperation Agency (BKSAP), DPR RI
Taufiqurrahman D. Noor
Adviser to the  Speaker of the DPR RI
Suprihatini
Head of Division, Defense, Intelligence, Foreign Affairs, and Communications and Information Commission, DPR RI
A. Muchaddam Fahham
Junior Researcher, Center for Data Assessment, Processing, and Information (P3DI), DPR RI
Indra Pahlevi
Senior Researcher, Center for Data Assessment, Processing, and Information (P3DI), DPR RI
Begi Hersutanto
Expert Staff on Defense, Intelligence, Foreign Affairs, and Communications and Information Commission, DPR RI