USINDO Jakarta – U.S. Embassy – The Habibie Center Open Forum October 14, 2016: "The Race to the White House: The Outlook Three Weeks Out"

Cordially invite you to an Open Forum on
The Race to the White House: The Outlook Three Weeks Out
with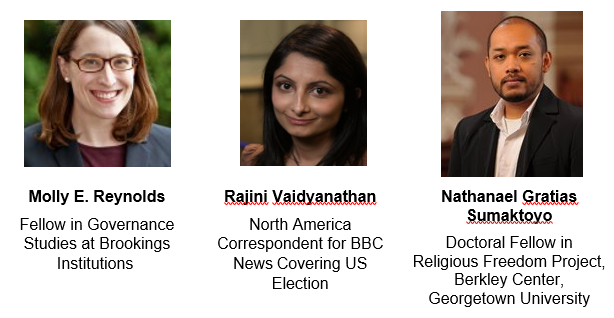 Friday, October 14th 2016
17.30 – 20.00 pm
Venue: @america
Pacific Place Mall, Level 3 SCBD, Jalan Jenderal Sudirman
Kav. 52-53, Jakarta Selatan, 12190
It is less than three weeks away from the 2016 U.S. Presidential election. Heated discussions between the two leading candidates'—Clinton and Trump— campaigns, rallies, and debates have emerged. Based on the latest New York Times national polling average, Clinton is leading with a narrow lead of only 4%. With such a close margin, it is inevitable that the recent Presidential and Vice Presidential Debates, have garnered huge attention from the public and media. Issues such as, immigration, gender & race, climate change, military and terrorism, economy and taxes, trade, foreign affairs, cybersecurity and health records have all been debated by the nominees.
According to the Pew Research Center, not only do both sides have distinct policy differences, but their supporters are hugely divided over what long-term vision they have for the direction of the country and the next generation's prospects. The results of this election will not only have implications for US domestic policies but also other countries' foreign policy development, particularly Indonesia.
Therefore, the forum will seek to answer the following questions: What is the current status of the presidential campaigns? How did the candidates fare in their campaigns, rallies, and debates? What challenges remain for each candidate to win? Who is likely to win the election?  And what are the implications for each nominee towards America's domestic politics and other countries, including to Indonesia?
The United States-Indonesia Society (USINDO) in cooperation with the United States Embassy Jakarta and the Habibie Center are delighted to host Ms. Molly E. Reynolds, Fellow in Governance Studies at Brookings Institute, Ms. Rajini Vaidyanathan, North America Correspondent for BBC News covering the U.S. Election and Mr. Nathanael Sumaktoyo, a Doctoral Fellow in Religious Freedom Project, Berkley Center, Georgetown University, at this event to provide a comprehensive perspective into the upcoming 2016 U.S. presidential election. Please join us for this insightful discussion.
This event is open and FREE of charge. To register, please RSVP HERE or e-mail to usindojkt@usindo.org by October 14, 2016 at 14:00 pm.