Balancing Total Defense and Technology: Challenges in Indonesia's Archipelagic Defense System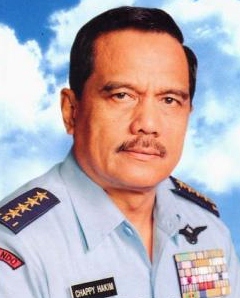 Air Chief Marshal Chappy Hakim (Ret.)
Former Indonesian Air Force Chief of Staff
The rapid development in science and technology have driven many countries, including Indonesia, to increasingly adopt new technology in their defense system. "Total defense" and the "relying on technology" are among the main formulas in national defense system, including the security aspects of it, around the world. Since 2000 however, security and defense have become two different ideologies in Indonesia, when the Indonesian Police Department was separated from the Indonesian Armed Forces. The choice between technology and total defense also heavily relies on the country's topography, which in the case of Indonesia as the world's largest archipelago, adds to the complexity of protecting its national interests that are spread across thousands of islands and large bodies of water.
Please join USINDO for this informative talk on technology and defense in Indonesia. Air Chief Marshal Chappy Hakim (Ret.) will discuss issues and challenges in Indonesia's defense system and aviation, particularly the need for an archipelagic defense system for Indonesia, as well as issues pertaining to the U.S. – Indonesia relations in aviation industries.
To RSVP: Please click HERE and RSVP by August 30th. Please note space is limited.